In layman terms, the concept of Internet of Things or "IoT", in brief, speaks volumes about lengthening the potential of the internet which extends beyond the bounds of computers and smartphones, to an unabridged pack of other things, processes or environments.
Being a chunk of the jam packed tech-savvy society, a more sophisticated definition says: "IOT is nothing but a progressive automation and analytics system which exploits the underlying domains, namely, networking, sensing, big data, and artificial intelligence, to eventually dispatch a full-fledged system for a product or a service, without human intervention".
To explain better, an example would fit in just right. A smartphone, 10 years prior to today's tech-mutation, was essentially used to make phone calls or deliver messages, at most. But, in today's time, you can read a book or watch a movie or listen to soothing music-all at the palm of your hand. And that's a few of the astonishing things a smartphone can do. Connecting things to the internet, undoubtedly, yields astonishing benefits, which we've explored in our mundane lives, with our tablets, laptops, smart phones. Now, IoT is a lucid concept, which implies "taking all the things in the world and affixing them to the internet".
Why does IoT matter?
When something is connected to the internet, it is perceived to either send a piece of information or receive any of it or, perhaps, both. This competence of sending/receiving makes things smart.
Coming back to the illustration of smartphones. At present, you can listen to just any song from across the globe, but not because every song is on your device, rather it is stored somewhere in the world from where it is being fetched by sending information(asking for that particular track) and received at your end(streamed on your phone).
Furthermore, to be smart, it doesn't necessarily demand one to be a superstorage. Instead, a simple connection to that super storage would be cherry on top. Gartner reports that there are already more than 16 billion connected things in use in 2020. You can imagine how much data these devices will collect and how these data can help improve the products, services and ultimately the future. That's what today's tech savvy customer expect from their brands.
What can the IoT be classified into?
Chiefly, all things connected on the internet can be segregated into three categories :
1. Things that collect information and then send it
It broadly includes sensors, be it, temperature sensors, light sensors, air quality sensors, you name it. These sensors grab information from the environment and enable us to make more brainy decisions. For instance, a soil moisture sensor informs a farmer whether or not his field needs irrigation. Now, too much water(expensive over-use of irrigation methods) or too less water(loss of crops) – both come with a price to be paid. With the advent of such a sensor, benefits knock both the farmer's doorsteps(monetary basis) and also of every being, who gets adequate supply of crops. As we perceive our surroundings with our sense of touch, smell, taste etc. machines, too, via sensors, grasp the sense of the world.
2. Things that receive information and then act on it
We are well acquainted with such machines. For instance, the printer receives a document and prints it, the car receives a signal from car keys and opens the door. Now, the real power lies in the machines which can simultaneously perform both sending and receiving.
3. Things that can do both
Reconsidering the farmer example, where sensors were collecting data of moisture content in soil and informing the farmer to water its field. Replacing the farmer simply with the irrigation system, where it directly gets notified via soil sensor, when to water the fields. Furthermore, irrigation systems can even fetch weather forecast data to know prior whether it shall rain and not water the crops on a particular day. This is an optimum way of watering crops and feeding the world's population. 
How do IoT devices communicate with each other? 
The technology behind the IoT pre-existed in the making long before PCs were accessible to any Tom, Dick and Harry, and is now the elementary concept of machine-to-machine communication. Breaking down the IoT technology into four rudimentary stack layers, namely:
Device hardware

Device software

Communications

Platform
The software configuration is solely responsible for making a device 'smart' and is superintendent to implement the communication with the Cloud, gathering data, integrating devices and performing real-time data analysis within the IoT network. It is, moreover, culpable for data visualisation and interaction with the IoT system. Small digital studios like Kormoan is dedicatedly working with companies to help them build the IOT capabilities from the scratch.
Connectivity differs from device to device on the basis of following parameters – power consumption, range and bandwidth. An IoT device is configured to the internet via an IP network, which in turn is connected to the net via Ethernet-wire or wireless- or Bluetooth. It is further classified into :
Short range solutions(Bluetooth, Radio Frequency Identification or RFID)

Medium range solutions(Wi-Fi, Thread, ZigBee)

Long range (or WAN) solutions (NB-IoT,LTE-Cat M1, LoRaWAN, Sigfox)
What are a few of the applications of IoT technology?
Notable implementations of the IoT encompass IoT sensors, IoT data analytics, IoT tracking and monitoring systems, IoT connected factory, smart supply chain management, smart barcode readers and smart farming. 
Real world IoT applications account to :
Smart Home Automation

: Imagine your electrical appliances(geyser, toaster, induction, dishwasher, washing machine etc.) automatically turn off when you evacuate your premise for setting off to work. It is sooner expected to turn into reality when clubbed with smartphones. 

Smart Wearable Technology

: These sensor instilled devices will not only benefit the companies making money out of them but also the users by providing them with useful insights. Their perks would remain consistent throughout their existence, namely, highly energy efficient, low power consumption and compact-sized.

Connected Vehicles

: The underlying concept is storage of data on the basis of what sensors  analyze and eventually, the reasonable actions it performs. It will surely be used for gathering necessary information and establishing relationships with the driver.

Industrial Internet of Things(IIoT)

: It, undoubtedly, has equipped industrial engineers with sensors and proficient tools for big data analytics, which are later occupied in building intelligent devices. For data transmission, these developed machines have extremely high precision and consistency. IIoT has been witnessing tremendous advancement in IoT, accompanied by expansion in the field of Cloud Computing.

Smart Cities

: It will soon be a distinguished aider in major concerning issues such as pollution, traffic congestion etc. Installing light sensors will not save power but also support infrastructure enhancement. It will also boost up networks all across the cities, commencing fresh plans like bringing up sustainability schemes for citizens and authentic opportunities for the development of enterprises.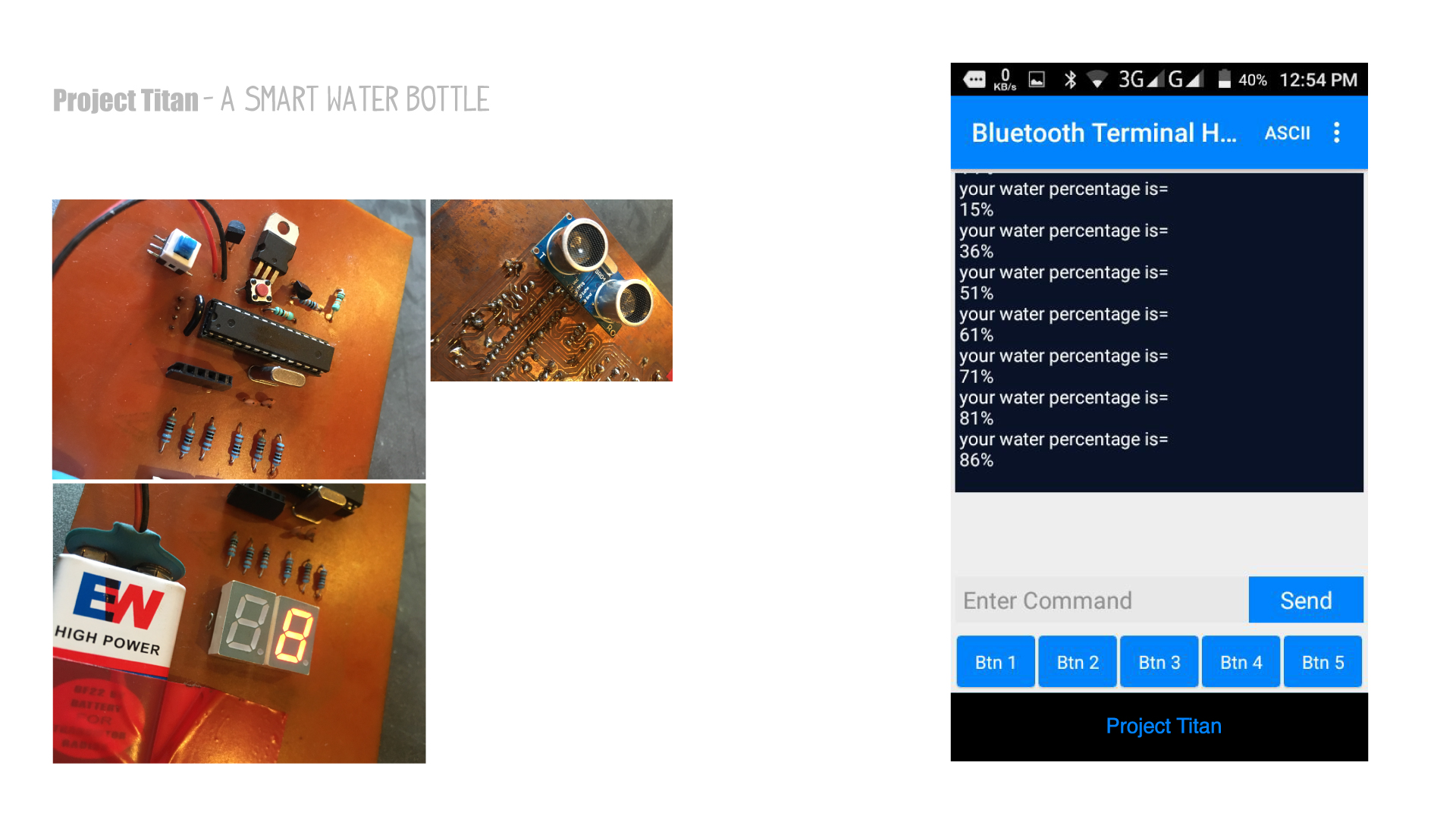 An IOT project we are working on to make a smart water bottle. Startups in India are highly focused on incorporating IOT in consumer products.
How can IoT account to the growth of small businesses?
From self-driving cars to smart watches, the era of surging connectivity is already here. Though tech-giants like Google, Cisco, Huawei, Siemens, Apple, Amazon etc.  have already embraced IoT and Cloud technology with wide open arms, miniature entrepreneurs are yet to undertake this  state-of-the-art level of technology. In today's business cosmos, precision is appealing. Processes like manual updation and inventories estimation demand automation. The technology is not expensive thats is why many of the small business are giving great competition to the giants in the sector. With IOT market poised to reach $1.1 trillion by 2026 the opportunity is huge for small and medium businesses.
Few of the much awaited perks to small businesses, presumably, are : 
Payment coup

is continuously shaping small businesses, by giving its users liberty to, in a precisely more secure manner, make payments from wherever they are and with any device they use. 

Small businesses have conquered IoT in the

marketing sector

, too. Because of limited budgeting for advertising, IoT helps in invasion to analytics on a massive scale, via screen scraping or data mining. 

Prior to the advent of the IoT, small businesses were intimidated by the large-business proprietors, who had tight

grip on databases

. But, IoT has leveraged data gathering processes, rendering it  inexpensive and attainable. 

Consumer product manufacturers can have great leverage with connected devices, the technology can be easily build in their existing ecosystem.

Furthermore, for small businesses, IoT not only garners a formidable system to

secure data

but also lends measures to strengthen relationships with their customers and users.
What is the future of the IoT?
Statistics reveal that the number of IoT devices is forecasted to grow to 30 billion by 2021, and is further expected to augment to 75 billion by 2025. Healthcare and manufacturing are the upcoming loss for investor interests. ThingsCloud, Doxper, SeeHow, Uncanny Vision are few of the esteemed IoT startups. India has pre-planned more than 100 smart cities, aiming to set up seamless connections not only amongst humans but also machine to machine and machine to human. In addition, a cardinal push for the IoT adoption directly drops in from the Government Of India, via supreme projects like "Digital India" and "Make In India".
The prime factors facilitating adoption of IoT in India are :
Almost billions of smart phone users

Maturity in the IoT solutions that are being suggested and improvised frequently.

Hiked operational efficiencies.

Strengthened network coverage and levels of data speed.

Enhanced customer experience.

Increased mobility.

Improved decision making.

Evolution of smarter lifestyle.
Benefits of IoT have started to pay off, including sectors of retail, transport, logistics, automotives and agriculture. Every living being in this tech-era demands full command over all its gadgets, starting from smartphones to watches, refrigerators etc. IoT is coined successful only with its user feedback. With the advent of IoT, many industries have already observed expansion and ease at the workplace. Competitiveness will only be determined by how companies leverage from ingenious technologies. IoT, indeed, will be a preeminent technology to dictate the fate of many businesses.
With the upsurging comfort in technologies built at IoT's end for homes, offices, factories, public places etc., provided the breakneck trot of its development, it is evident that the corny IoT phrase "anything that can be connected will be connected" is even closer to becoming our everyday reality. With our software capabilities we are here to help you build the future.
If you have any queries, feel free to write to us at hello@kormoan.in.
Kormoan is top-rated app development company
Over 6 years of work we've helped over 150 companies to build successful mobile and web apps. We offer all the necessary expertise to bring your bold idea to the market.
To Reach Us Call/Whatsapp: +91 9560186963 or Email: hello@kormoan.in